A big number of people all over the world have heard about Match.com and for sure it's one of the most recognizable platforms for dating. It's impossible to imagine a matchmaking industry without Match.com which is one of the market leaders for more than 23 years. Its website and app let people communicate, meet, date, and get married. A lot of active users every day make it possible to find a person for any type of relationship.
Everything you need is to download the app from the Apple Store or Play Market, it's free and after that, you will be able to sign up to your account if you are a member or join the website pretty fast.


Match.com App Features Reviewing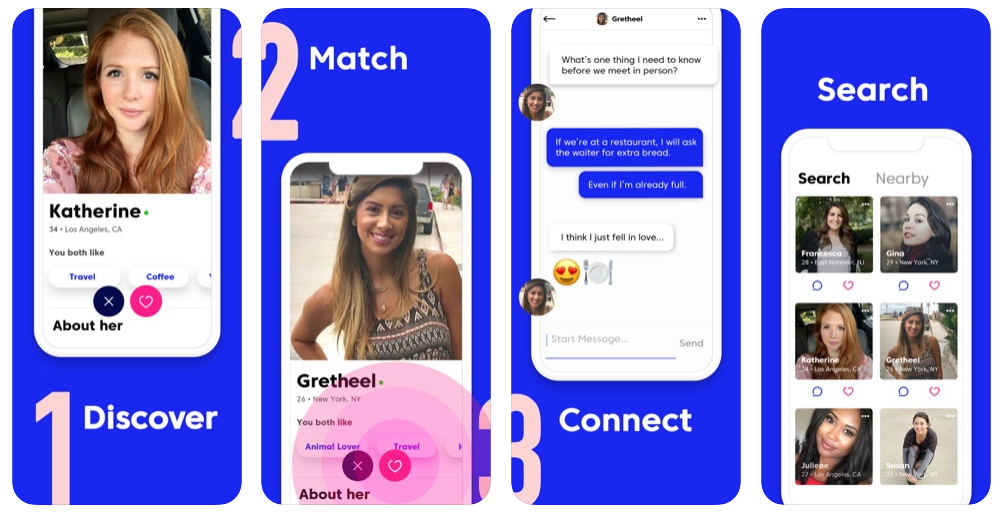 The platform lets the users continue communication when they are on the go. Nowadays people use their smartphones and they don't need their laptop or computer to stay in touch with the lady you like. With this app, you will be able to send winks, chat with users, or send messages. These features make the app convenient for users and they can:
Find people in your region
Change the profile and add pictures
Users friendly search with filters
New matches suggested by the algorithm every day
Match.com App Prices Reviewed
Like many other companies, Match.com suggests free downloading its app that lets you join your account and go on communication when you can't use a desktop version. At the same time, the number of free features is limited and you won't be able to communicate if you aren't a paid member. So here are the prices. For American and Canadian users the one-month memberships will cost $59.95 per month. A 6-month package is $239.7 all together when you pay $39.95 per month. If you decide to join for one year it will cost you only $18.95 monthly but you will need to pay $227.4 at once. It's possible to join the website for 2 years and the memberships will be $238.8 which is only $9.95 for one month.
| Period | Price (USD) |
| --- | --- |
| 1 month | $59.95 |
| 6 months | $239.7 ($39.95 per month) |
| 12 months | $227.4 ($18.95 per month) |
| 24 months | $238.8 ($9.95 per month) |
Conclusion: Is Match.com App a scam or trusted platform?
Someone may say that Match.com App scams, some people think that it is a great place to meet people and to communicate. First of all, you should remember that there are good and bad people everywhere, and dating platform Match.com is not an exception. A big amount of users have found their partners thanks to Match.com but as our experts have read many reviews where men complained that the website and the app are a complete scam place and it's not possible to meet a sincere person there. Should you believe the reviews that say that Match.com app scam, it's a question for you to think. However, you are warned so you will be able to follow all the safety rules which will make your communication safe, pleasant, and bright.