May 2023
That's not a problem to find a dating website, there are a lot of them in the search and you may join the one you like easily. Why do people do this? First of all, it a good chance to make new friends and to try to build something more serious than friendship.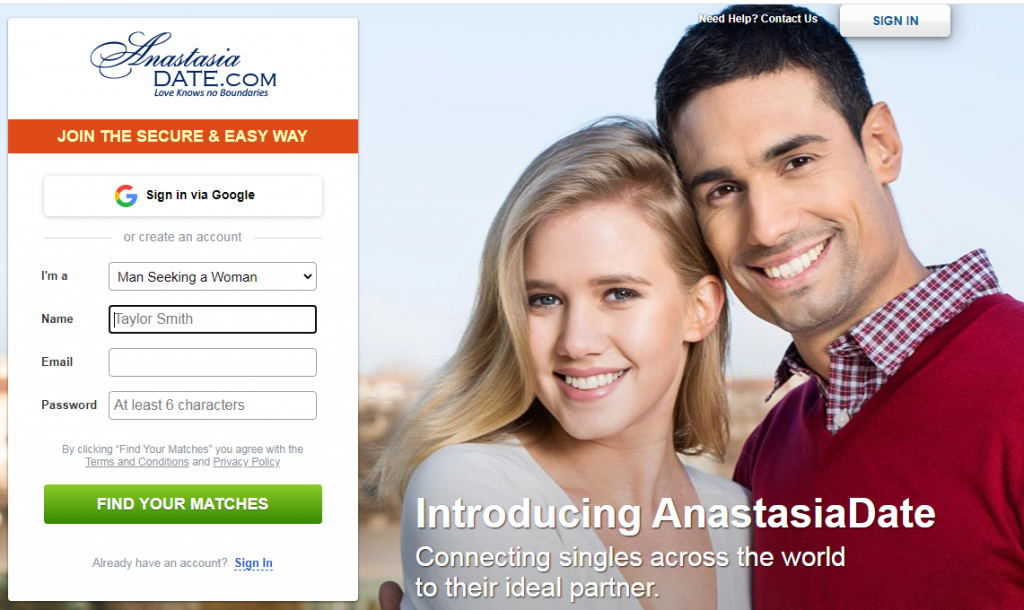 AnastasiaDate.com is a trusted platform for men to meet ladies from Russia and Ukraine. At the same time, there are more than 20 000 single ladies who are looking for men from the USA, the UK, and other European countries. The website is recommended by experts and rather popular among the ladies because it's completely free for them and they get good services and letters translation for free.
AnastasiaDate.com Services Expert's Rating
Chat online
That is a live chat with any online user. Just press the button and know the lady better. That's an option for people who prefer chats and hate writing long letters.
Correspondence
A lot of men and women prefer to know each other in letters and then to go on in real life. This option is available both on the website and in the app.
CamShare
If you'd like to see the woman and to show how you look like, it's easy to do. This option is an online video call to a user who has a webcam.
Calls
To call the lady and to hear her voice is possible with this service. The user makes a reservation and sets the time, the company organizes a phone call and the translation if it is needed.
Virtual Gifts
It's so important to show that you like a lady and to make her smile. Sending virtual gifts is the easiest way to show your interest and to initiate communication.
Real presents and flowers
Order and buy flowers delivery or choose for the lady champagne or candies. Make her life sweet and bright.
AnastasiaDate.com Pros and Cons Expert's Review
Among the main pros you'll find:
Protection. Safety and Security system protects the users and makes communication safe.
AnastasiaDate.com against scam and protects the members. Payments are secure and anonymous as well.
Verification. The staff checks all the members and guarantees that they are real people and there are no fake profiles. All the ladies are real and serious.
Attention. On this website, you get both – attention from the staff and female users. All the problems are solved fast by the team if there are any and you'll find answers to your questions and get the consultation if you need it.
Communication. The website team suggests their members a lot of different ways of communication. Writing letters, chats, video chat, you choose anything you desire and prefer. If you need translation, it will be professional and any time you need it. AnastasiaDate.com services are easy to use, that's true.
A mobile app. Lots of people prefer to use this convenient app in their mobile phones. That means that you are free to communicate when you have free time. You don't need to have a laptop with you, that's a big advantage of this website.
Talking about the cons we should mention:
There are a lot of users who aren't serious in their search. Not only women. Few men prefer to join the website to have fun, some of them can be even married and to use the resource just for flirt or so.
Expensive. Corresponding and dating with many women on the website may be expensive when you have to pay for letters and for a chat with a lot of women at the same time. Presents and flowers are expensive as well if you decide to give them not many ladies.
You can't get the ladies' personal information and will not be able to share yours.
AnastasiaDate.com Prices and Membership Reviewed
You join the website for free and you don't have to pay. However, this website has a membership fee that means that each month you'll have to pay $9.99, and then you need to buy credits to pay for the services.
They sell the credits by packages. If you buy 20 credits it will cost $15.99, for 40 credits you'll need to pay $30, for 80 – $56, 160 will cost $ 96 and they sell 200 credits for $119.
More credits you buy, the cheaper one credit is.
What about the prices of AnastasiaDate.com services? For example, a bouquet costs around 700-800 credits, a 10-minute phone call will cost 100 credits. All the payments are secure and you may use your credit card, Skrill or PayPal.
Overall: Is AnastasiaDate.com a Scam or Trusted Site?
To sum up, we need to warn you to be careful on any dating website. There are positive reviews when men and women were happy to find each other and now they live together and even bring up children. However, if you read the reviews, you'll read a lot about AnastasiaDate.com scams. Men report that they were scammed and they decided to give up with this website forever. Although, the website declares AnastasiaDate.com against scam.
Who to believe? Believe only yourself, your feeling, and instincts. Of course, somebody's bad experience shouldn't stop you but it should give you useful knowledge on how to behave, what to ask a lady and what pay attention to in her answers and letters.